LAUREL HIGHLANDS, Pa., January 20, 2014 — Blast off the winter blues at Nemacolin Woodland Resort.  From snow fun and skiing to soaking in hot tubs, its a great weekend getaway.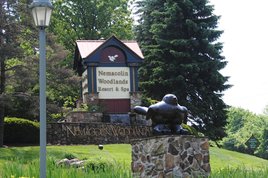 Entrance to Nemacolin Woodlands Resort
(photo/J.Kubin) Click to enlarge
Nemacolin Woodlands Resorts has grown to be a premier golf and activities destination for families. Whether the trunk holds a golf bag, hiking boots or a fly fishing creel, the family who seeks a memorable summer of 2010 need look no further than Nemacolin.
The list of things to do seems endless – zip lining, paint ball, animal safaris, miniature golf, rock wall climbing, bowling, skeet shooting, tennis, hiking, swimming, fly fishing, the Wildlife Academy and Safari, health club and the world class Woodlands Spa.
---
---
And golf.  Don't forget the golf.  The 36-hole championship course is described by the resort as having "Sahara-like bunkers, rock formations, deep woods and lakes." Those on the course seemed very happy.
While I don't golf, I can attest that the courses and surrounding country are incredibly beautiful.
Less than three hours away from metro D.C. by car, and nestled into the Laurel Highlands of Southwestern Pennsylvania, the 2,000-acre resort is just 70 miles from Pittsburgh. Instead of paying airline fees and travel expenses, the money you save by vacationing locally can be spent on good food and family fun!
Luxury and choice define the Nemacolin experience. You can choose the luxurious comfort at the Falling Rock five-star hotel. If you prefer townhouse accommodations, the resort offers equally luxurious two- or three-bedroom floorplans.
Falling Rock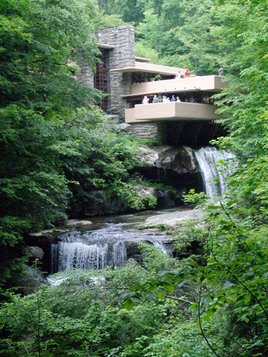 Falling Water (photo/J.Kubin) Click to enlarge
Architect Frank Lloyd Wright is an icon in the Laurel Highlands, where he built one of his most famous structures, Falling Waters, located just 15 minutes from Nemacolin and worthy of a visit.
Borrowing from Wright's organic Prairie School of design, Falling Rock sits along the Mystic Rock golf course.  This AAA Five-Diamond Hotel surpasses most for both its gorgeous design and the comfort of the property.
Upon entering the front door you almost audibly sigh as your eyes scan over the natural texture of stone piers, exquisite woods, and slate and tile floors. Sage greens and muted oranges complement the warm "Cherokee Red" color that Wright loved and that are the predominant finish colors at Falling Waters.
The lobby exemplifies Prairie School style. The flowing open floorplan encourages the comfortable use of space. One finds both group seating and intimate arrangements — hallmarks of Wright's sense of interior design.
---
---
What is incredible about Falling Rock is the fenestration, or window design. Long expanses of window allow the outer environment to almost become part of the interior.
The view continues along the horizontal line as though one might easily just continue across the verdant, lush green of the golf course and on into the woods in the distance.
This is yet another hallmark of Wright's designs, the seamless merging of architecture, both exterior and interior design, with the environment.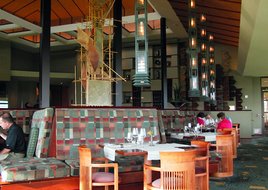 Aqueous Restaurant, Falling Rock at
Nemacolin (photo/J.Kubin) Click to enlarge
At Aqueous Restaurant, the Wright-inspired design is pleasing to the eye with geometric lighting fixtures, organic materials, colors and furnishings.
Executive sous chef Sean Eckman and chef Seth Mahler create incredible plates that are inspired by the environment, local produce and a dedication to creating foods that combine healthy, regional products into works of culinary art.
"As a concept we are bringing the farm to the table in new and exciting ways," Chef Eckman said.  "Tomatoes. Freshly harvested, dressed with a bit of salt.  Their strong green floral essence is the smell of the garden, which is best captured by the tomato, that takes me back to my childhood."
Aqueous is only one of many dining experiences guests to Nemacolin can enjoy.  One of only 20 restaurants in the world to have been simultaneously awarded the Forbes Five-Star and AAA Five-Diamond award, Lautrec offers European style cuisine built around the finest locally sourced ingredients available.
Lautrec offers a prix-fixe seven-course format and the nine-course chef's tasting menu.
Autumn's menu underscores the property's attention to a "green initiative." Nemacolin is dedicated to the local farmer and provider. At Autumn, guests can appreciate the "miles" – or distance – produce has traveled from local farm to the restaurant, in addition to an awareness of the carbon footprint created when food is imported, shipped by train, overland trucks or air.
For casual fare, many places offer a quick lunch or a family dinner.   Caddy Shack features a barbeque menu with items from the smoke house and rotisserie.  Nemacolin executive chef, Brent Wertz has created a line of Budweiser Genuine Sauces, including BUD Barbeque and Beechwood Smoked sauces as well as basting and wing sauces.
If you seek an English pub-style casual atmosphere, visit The Tavern, which offers pizza, wraps, salads and pastas.
Jacquie Kubin is a 15-year, award-winning veteran of travel and culinary writing. Today, Jacquie edits and directs a staff of writers for Communities Digital News, where you can read more of her entertainment, travel and culinary reviews. Jacquie is always looking for new talents who want to expand their horizons.
E-mail Jacquie with ideas, questions or to share your writing dreams.