CHICAGO, August 18, 2014 – It's hard to imagine that a heart attack would fell Jay Adams, one of the original Z-Boys a group of California skateboarders that were akin to a modern day band of Lost Boys.
Adams died on Friday in Puerto Escondido, Mexico at the age of 53. Allen Sarlo, a lifelong friend of Adams said that he had chest pains when he went to bed.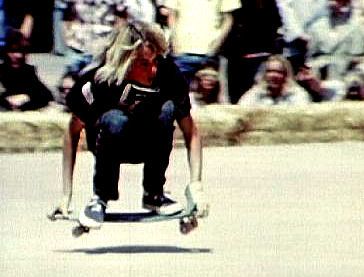 Jay Adams Pictures
Jay J. Adams (b. February 3, 1961) in Santa Monica, California where his mother worked at a surf shop, eventually running a Venice Beach surfboard rental business. In interviews, Kent Sherwood, who was in a relationship with Adams mother, says he had Jay into the water by the time he was four and he became a frequent fixture on the beaches, and in the water, by the time he was six.
A paddle out was held in Santa Monica in remembrance of their native son by Adams son Seven. In a paddle out, more than 40 surfers at the 26th Avenue Beach form a ring around Seven Adams to celebrate Adam's life, and say goodbye.
Santa Cruz Sentenial Magazine writes that Steve Thatcher was pointing out to where a whale had spouted water just beyond the ring of surfers.
Thatcher said he and Jay Adams competed in skateboard competitions — Northern California versus Southern California — in the 1970s and 1980s. Since that time, Thatcher kept track of his former competition through his brother, a former editor for the skateboarding magazine Thrasher.
"There's nobody who probably cemented the connection as well between surf and skate," Thatcher said. "(Jay's death) is really sad. But he lived hard. I can see how he would go early, because he always did things twice as hard as everyone else."
One of his first connections was competitive surfboard designer and builder Jeff Ho who was taken aback when the pint sized surfer was able to talk to him about his surfing style "At the time, you didn't see little kids in the water," Ho has said.
That early connection began a lifelong friendship and helped focus Adams future as a leader in the skateboarding revolution. Adams was a member of the Jeff Ho Surfboards Zephyr surf team, traveling to local competitions.
That group of surfers became the Z-Boys and the brought the surfer influenced style of board-riding to skateboards, helping to turn it into a spectator sport every bit as popular as surf competitions, but without the need for an ocean or wave.

Jay Adams Pictures
Over a two-year period during the mid-1970s, Adams and the other skaters laid the foundations for vertical skateboarding revolutionizing the sport of skateboarding. The Z-Boys were known for putting levels of aggression and attitude into the sidewalk surfers of the 70s.
The Z-Boys created the radical moves, perfecting them in the empty pools of California's failed real estate market that serve as the blueprint for skateparks around the country and that led to skate boarding superstars.
"Every week was a month, and every month was a year; things just really progressed," Glen E. Friedman, a fellow skater who photographed the era, said in an interview.
Adams made some money and achieved some fame but with skateboarding fading in the early 1980s, the sponsorships and fame faded as well and he became a heavy drug user becoming addicted to heroin and landing in jail. He became a Christian in jail and finally became sober about ten years before dying.
Adams helped to
While Adams was instrumental in the growth of popularity of the sport, he did not benefit long term from its largess. That went to a new breed of boarder who embraced boarding as a competitive sport that could lead to lucrative sponsorships. "Dogtown and Z-Boys," directed by Peralta, is a 2001 documentary that revived Adams's legend and brought him a new generation of fans and as they say in the film, getting in the magazines was cool, but all we wanted to do was skate.
The Z-Boys, including Adams, Alva and Peralta, met for a reunion dinner at Hostaria del Piccolo, a restaurant near Venice Beach earlier this year. Two busboys, realizing they were hosting the Z-Boys, were awed.
"Years ago we would have been kicked out of a restaurant like that," Peralta said, "and here they are: 'Thank you for choosing us. "
Samantha Baglioni and Jay Adams are the parents of Seven Adams, who, Baglioni says has a "huge hole in his heart" from his father's death.
Speaking to the Santa Cruz Sentinal she said that if "Jay Adams had to go, she was glad it was now, instead of 10 years ago. He had the "women of his dreams" in his wife and daughter Venice, and had made amends for his wrongs, was "right" with Seven Adams, and generally "was so happy."
His survivors include his wife, Tracy Hubbard Adams, as well as Seven, and a daughter, Venice, from previous relationships.