No matter how much you prepare, plan and prep, serving a festive Holiday Dinner can result in nothing short of pure panic.
Face it; we are not Martha Stewart.
But a beautiful, tasteful, and easy holiday feast can be set before your guests with little fuss or fear, if you have a quality grocery store, such as Whole Foods, in your neighborhood.
The secret to holiday success is to buy as much prepared and deli-ready foods as possible, serving them on elegant dishes as though fresh from your kitchen. Just make sure all evidence of boxes and tin wrappings have been removed from site!
---
---
To your pre-pared dishes, add a few "homemade" touches that are easy to create, some incredible cocktails that can be mixed ahead and wait for your guests to arrive.
Then, in the French fashion, don't explain how you are able to create such divinity, just smile and accept the compliments.
This Holiday Feast menu includes a sumptuous four course meal that includes a: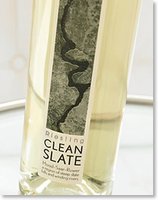 Fruit and Cheese appetizer served with wines and festive spirits.
An easy to prepare Spinach and Peach Fruit Salad.
Ham entrée dinner with individual Potato Gratins, Haricot Vert green beans and cranberry sauce.
Finish the table with assorted sliced breads served with French butter and pair the meal with a Clean Slate Riesling wine. The Clean Slate offers a fresh and balanced taste of ripe peach flavors with a pleasing minerality that comes from the slate soil for which it is named, and a hint of spiciness that pairs well with pork.
Assorted chocolates, miniature cakes and candied fruits served with whole leaf world teas and honey and after dinner liqueurs served in Belgian Chocolate cups.
The pre-dinner fruit and cheese tray is a simple way to start your holiday entertaining because your tray can be prepped the day before as long as you store your cheeses separately. Pair your cheese course with a dry white wine, fruity and sharp, but light and not too spicy or exotic such as a Sauvignon Blanc or a Fumé Blanc and the Beaujolais Nouveau.
Your guests will be impressed with your culinary knowledge as the nibble on exotic and flavorful fromage such as the Whole Foods Whole Kitchen™ Cheese Soufflé with Emmental. This is a taste perfect soufflé consisting of a blend of Emmental cheese with a mixture of eggs, flour and crème fraiche.
It's impressive to serve and delicious to eat, yet as simple as warming them up to present.
Add to the warm soufflé, an exotic cheese such as the Persillé du Beaujolais. This incredible, soft blue cow's milk cheese pairs exquisitely with the Beaujolais Nouveau.
The Persillé du Beaujolais cheese hails from a small, artisan dairy in the Rhone Alps that produces a limited amount of this unique cheese, so it's very difficult to find.
---
---
A fondue of melted Isigny Ste. Mère French Brie with raspberry coulis (a simple, raspberry sauce or quality jam works well) and slices of toasted crusty bread.
Finish your tray with a sliced cheese, a nice, but simple, cheddar for example. Add some assorted finger fruits, grapes and berries, nuts and vegetables; small cherry tomatoes are bright and festive addition to the plate. Serve your tray with baskets of crackers and thinly sliced breads.
If these cheeses are not available, ask your cheese Fromager, or store's cheese expert, for help in selecting distinct and flavorful cheeses.
The salad is destined to impress, but easy to assemble with a bit of preparation. Bake your almonds 2-3 days in advance and warm in the microwave for a few seconds prior to serving. Peaches can be prepared that morning, or even the night before if stored in the Handi-Vac bags. The spinach should be well rinsed the night before, wrapped in a flour sack towel and kept in the lettuce bin overnight.
Day of preparation should be a snap, as you should only need to tear the room temperature spinach and toss with the dressing. Add the peaches, toss again and then the pecans. Add a drizzle of dressing to the top if necessary. A hint – don't serve too large a portion of the salad. You do not want salad left on the plates, as they are easier to clean if you only need to rinse.
From the kitchen to the table, your main entrée should be simple to prepare and easy to present. One of my favorite holiday meats is a Niman Ranch Pre-cooked, spiral sliced Ham with a sweet and tart Black Cherry and mustard glaze served with plenty of pre-prepared sides.
Any quality, pre-sliced ham will work, however for maximum taste, choose a natural ham product, raised without antibiotics or hormones. There is a significant taste difference.
Creating festive side dishes is as easy as perusing the frozen foods sections. For example, at Whole Foods, find the Whole Kitchen™ Potato Gratin with Tartiflette Sauce.
Serve fresh pre-made green beans and cranberry sauce found at the prepared food counter or you can purchase frozen Haricot Vert French style green beans and microwave in short bursts so that they are crisp, toss with a very small amount of olive oil and fresh lemon juice and sprinkle with touch of lemon zest or slivered almonds.
Place a basket of assorted breads and rolls, served with a quality, French butter, at each end of the table.
Dessert should always be the easiest course to serve. An assortment of chocolates, sugared fruits and miniature desert cakes served with Belgian Chocolate cups, available at Whole Foods, and an after dinner liqueur assortment of Frangelica, Amaretto and Bailey's Irish Cream, teas and coffee.
All that is left is to set the table with some lovely linens, plates and goblets and even the most unenthusiastic cook can create a gourmet meal.
And Dinner is done.
Holiday Ham
Ingredients: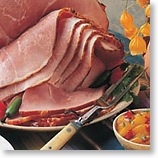 Pre-sliced Holiday Ham  (Honey Bake, Niman Ranch)
Jar of Black Cherry preserves (no sugar added)
Jar of Dijon Mustard
Brown Sugar, ground cloves or All Spice (available in your seasonings section) or the package of ham glaze that may come with your ham.
Preparation:
The night before, remove your ham from its wrappings and set onto a large piece of foil (large enough to cover.)
In a saucepan, combine 1/2 a jar of black cherry jam and Dijon mustard to taste and heat to very warm, but not boiling. Add small increments of brown sugar and allspice, or ham glaze, to taste. The prominent flavor should be the sweet of the cherry's and sugar, with mid-tones of the mustard and under tones of the allspice.
Completely and generously cover the ham with the mixture, wrap and return to refrigerator overnight.
Remove ham from refrigerator and bring to room temperature to touch. Do not unwrap. Two hours before serving (depending on size) place the room temperature and still wrapped ham on a rack and place over 2 inches of water in a large pan. Place in 325-degree oven. Time to cook depends on the size and quality of the ham; check with your Whole Foods butcher as to the amount of time required to fully heat the ham.
You are basically warming, but you do not want to do so quickly, a lower degree will help pull the flavor of the marinade into the meat.
Combine the remaining black cherry and Dijon mustard to taste to serve on the side. Also makes a wonderful sandwich spread for leftovers.
Spinach Salad with Peaches and Pecans

Ingredients:
3/4-cup pecans
2 ripe peaches
Honey to drizzle
4 cups baby spinach, rinsed and dried
1/4-cup poppy seed salad dressing or olive oil and champagne vinegar dressing.
Preparation:
Up to three days before, preheat oven to 350 degrees F (175 degrees C). Arrange pecans on a single layer on a baking sheet and roast in preheated oven for 7-10 minutes, until they just begin to darken. Remove from oven and set aside.
The day before let fresh spinach soak, changing water frequently, to remove any sand, shake excess water wrap in flour sack towel and return to lettuce drawer. Peel peaches and slice, place in Handi-Vac sealed plastic bag.
Day of dinner, place peaches in bowl and drizzling with honey and coat spinach with dressing and allow both to reach room temperature. To serve, combine peaches, spinach and pecans in a large bowl. Toss with additional dressing or oil and vinegar to your personal taste.
Variations include using apple with Gorgonzola cheese, but omit honey.