STEVENSON: Scottish pride and the 45%: What next?
WASHINGTON, September 22, 2014  — In the days leading up to the referendum on Scotland's independence referendum, I published this op-ed in the Huffington Post explaining why I hoped my ancestors would find peace in a free country on Friday morning. Although my hopes were dashed by the prevailing majority who voted against Scottish independence, there are tears of pride in my eyes as I tell you how utterly amazed and inspired I feel at what Scottish First Minister Alex Salmond and the "yes" camp managed to achieve in such a short period of time.
---
READ ALSO: A lesson from Scotland for America on showing up to vote

---
For the past three days, I have been quietly lurking in the secret Facebook pages of Scottish nationalist groups in my pajamas, grieving with members who feel gutted and betrayed by the Loyalists and media that caused their beloved country to miss out on this opportunity to become an independent nation. I have watched with tears in my eyes as independence leaders told activists to stay home while violent Loyalist mobs took over George Square, saluted the Nazis, assaulted women and children, and burned the Saltire while the police stood by and the "Better Together" camp and BBC said virtually nothing. Imagine how the Loyalists would have reacted to a loss!
I have never seen a finer example of political grassroots organizing than what the Yessers managed to pull off over the past month, when even the previously complacent Queen of England and Prime Minister David Cameron expressed concerns ever polls showing 
51% of Scots
 favored independence. It was a sight to behold.
The Results Show That Westminster Didn't Win Scotland
When I was in Scotland a month ago, talk of independence was considered a pipe dream according to polls showing only 35% of Scottish voters supported it. By last Friday, an astounding 85% of Scottish voters turned up at the polls, and 45% of voters cast ballots to stand by a scrappy but mighty campaign army of "Yessers" who beat the odds and bravely stood toe to toe with Westminster's finest.
---
READ ALSO: Scottish independence vote reflects European and worldwide trends

---
According to the Telegraph, PM Cameron and Westminster's finest had raised an army of 100 large businesses operating in Scotland (banks, oil companies, whiskey producers, media, etc.) to sign a letter pressuring businesses to oppose Scottish independence with them. The oil industry also issued misleading statements casting doubt on the future productivity of Scotland's North Sea oil reserves, which later turned out to be false.
The Yessers, on the other hand, had only two major backers, Business for Scotland group and Willie Walsh, the chief executive of International Airlines Group, which quickly found themselves under fire.
According to the Guardian, the Yessers had one major media outlet behind them,Herald Scotland. By contrast, Loyalist business interests dominated the world media outlets, which had already declared referendum victory in the no camp before the votes were tallied.
In the days leading up to the election, the National Union of Journalists gave a statement telling supporters from both camps to stop intimidating and threatening the safety of journalists reporting on this bloodless revolution, and asking media outlets not to report on media bias complaints leveled against rival outlets.
On the other hand, the British media's fear mongering coverage of the "Yes" campaign was so blatantly absent, biased, and inaccurate that the Scottish Police Federation felt compelled to issue the following press release:
"As I have previously stated the referendum debate has been robust but overwhelmingly good natured.
It was inevitable that the closer we came to the 18th of September passions would increase but that does not justify the exaggerated rhetoric that is being deployed with increased frequency. Any neutral observer could be led to believe Scotland is on the verge of societal disintegration yet nothing could be further from the truth."
Although Prime Minister David Cameron declared victory and a decisive end to the debate over Scottish independence at 7:01 last Friday morning, his reaction showed the Yessers have Westminster on the run. With the whole world watching, Cameron as much as admitted that he intended to squash Scotland's power because the 53.5 million people currently living in England could not sustain themselves without the subsidies produced by the 8% of the UK citizens currently living on Scotland.
Not bad for an underfunded rag tag band of Scots proudly defending their own on just a wee bit of hill and glen!
Yesser Fever Sets In Around The World-What Next?
Since the referendum, there has been much scrutiny over the way UK leaders, Loyalists, and the media conducted themselves during the referendum campaign. It would not surprise me if the whole world was googling the 45% who stood toe to toe with Westminster to find out how Scotland's Yessers brought the entire UK to it's knees at 7:15 last Friday morning.
As a Democrat who worked on political campaigns prior to 2008, I know a thing or two about the heartbreak of questionable elections supposedly rigged in favor of some of the same business industries behind the "Better Together" campaign. My biggest fear is that the Yessers will get too caught up in mud slinging or referendum rigging conspiracy theories and miss this golden moment in the spotlight to win the hearts and minds of the public.
When the American people elected Al Gore president by popular vote in 2000, a Federal court in Governor Jeb Bush's home state of Florida delivered the election to his brother George Bush on a silver platter via a questionable ballot recount in Floridaand a slim majority in the electoral college—all allegations of campaign lies, missing ballots, recount fraud, broken electronic voting machines, gerrymandering, and racial profiling aside.
On election night in 2004, I distinctly remember crying in a small hotel suite in Boston with Senator Kerry and his Navy shipmates as we watched the election results come in, and thinking that the bad guys always win. The entire election came down to Ohio and some unanswered questions about the Bush campaign's involvement in fear mongering, allegations of voter fraud, broken ballot machines, missing ballots, voided provisional ballots, [infamous vote spoiler] Ralph Nader, bad exit polling, racism, and an electoral college vote challenge that ultimately came down in Bush's favor again.
To say I was frustrated when dealing with Bush voters in 2004 while working on the campaign trail for John Kerry would be an understatement. I naively thought for sure everyone agreed with my view on how corrupt the Bush administration was after President Bush's badly misleading 2002 State of the Union address featured the "Axis of Evil" and "they hate us for our freedom" mantras which then led America to declare our love for foreign oil (sorry, I meant to say war on Iraq and Afghanistan.) Subsequently, American soldiers died while Vice President Darth Cheney's former employers at Haliburton and Enron spent years cashing in at the taxpayer's expense. Yet every day I heard struggling American families argue against their own interests and in favor of terrorist fear mongers, identifying with the elite Conservative social class they wished they were in, not the one they actually were in (that was in a world of pain and about to get much worse).
After the election, it seemed like the Republicans were untouchable and the world was against the Democrats and the interests of the people. Truthfully, my heart was broken, I felt angry, cheated, lied to, stolen from and hopeless staring down the barrel at another four years of corrupt Republican leadership. The only reason I got out of bed a week after election was to attend a thank you lunch for Kerry campaign staffers.
At one point, someone at the meeting asked whether it was possible for the Democrats to crawl out from this overpowering, dark and divisive brand of Republican leadership that controlled the nation? My professor Jeanne Shaheen (who is now a US Senator) said something incredibly wise in response that Yessers would benefit from hearing.
Shaheen said that we may have lost the election, but the people were still watching, and so we should keep our heads up, take the high road and stay honest and positive, while continuing to serve the communities we love. That if we stood by our values and responded to the needs of the people, then perhaps the Republican party would take it too far and do themselves in to the point where the voters would see the lies and power trips of the Bush Administration for what they were in 2008.
And that's exactly what happened. By 2006, the Republicans lost their majority vote in Congress to the Democrats, and in 2008 there was no dispute that President Obama was our new Democratic president elect.
If England couldn't get unification right for Scotland after 307 years of trying, they won't get it right next year either. Perhaps this time around Westminster enjoyed the best referendum money can buy, however, Scotland will have another chance at freedom, and when that day comes I don't think that the difference between the value of a pound and a dollar will be enough to purchase the votes of the Scottish people Westminster has already let down. Within hours of declaring referendum victory, Westminster proposed £4billion in cuts to the Scottish budget and slashed 50,000 Scottish jobs. If nothing else, the 71% of inspired young voters who backed the independence campaign will surely outlive the 65% of elderly voters who voted no.
Yessers, don't you dare put your Saltires away: you are the mighty 45%! Hold your heads high, keep your message clear, stay positive and honest, become the party of the people and the people will follow. Build your media support now while all eyes are on you, network in your communities, because the word from Glasgow is that your day in the sun might not be as far off as Westminster hopes. I look forward to watching what happens when Northern Ireland follows suit with their independence and the Scots send the Orange Order homeward, think again.
Alba gu bràth!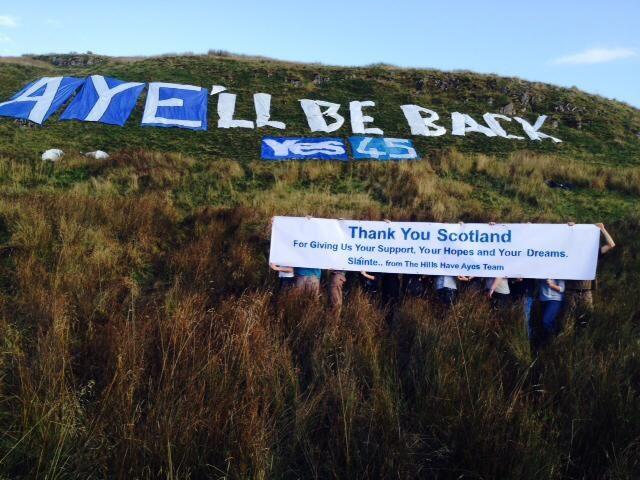 Click here for reuse options!


Copyright 2014 Communities Digital News

This article is the copyrighted property of the writer and Communities Digital News, LLC. Written permission must be obtained before reprint in online or print media. REPRINTING CONTENT WITHOUT PERMISSION AND/OR PAYMENT IS THEFT AND PUNISHABLE BY LAW.
Correspondingly, Communities Digital News, LLC uses its best efforts to operate in accordance with the Fair Use Doctrine under US Copyright Law and always tries to provide proper attribution. If you have reason to believe that any written material or image has been innocently infringed, please bring it to the immediate attention of CDN via the e-mail address or phone number listed on the Contact page so that it can be resolved expeditiously.